6 Home Maintenance Projects To Complete While Away on Vacation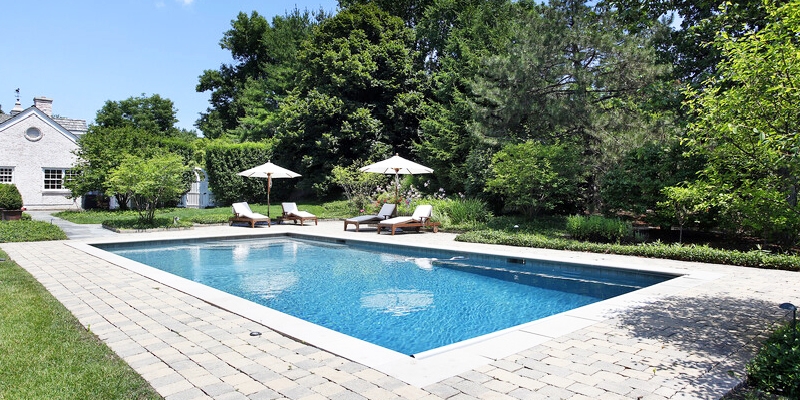 Certain home maintenance and renovation projects can be a disruption to life at home. The perfect time to schedule this type of work is while you're away on vacation. This way you can avoid having work done on the spaces that you enjoy day to day, particularly in the summer.
At the moment Greenwich Home Management property management team is working on a kitchen facelift in Greenwich, CT. Just one of the many projects we have in progress around the Fairfield County area. This includes repainting cabinets, and replacing the outdated hardware, backsplash and countertops. This is a quick, high impact renovation that can be done easily when you're on a trip. Here are a few others:
1) Paving The Driveway
This is a really good home maintenance project to complete while on vacation since you should avoid driving on fresh pavement for the first three to five days after the job is completed. Ideally you should wait up to two weeks before parking on a new driveway. And when you do park, for a short period after that, try to avoid placing the car in direct sun where the asphalt is hottest.
Hiring the right pavement contractor is critical because the job requires following the right application process, using the right materials, and implementing proper drainage. These steps are important to maintaining the longevity of the surface. Greenwich Home Management works with the best pavement contractors in the Greenwich, CT area.
2) Pool Repairs
We've had a couple of hot days this year in Greenwich and some pool maintenance needs may have already become apparent. Instead of losing out on quality swimming days during repairs, schedule the maintenance during your next trip. The Greenwich Home Management property management team is hard at work repairing cracked, faded or rough pool surfaces and tile, leaking and malfunctioning pool pumps and filters, and broken pool heaters. These projects will help ensure back yard parties go off without a hitch.
3) Hardwood Floor Refinishing
Refinishing hardwood floors can put a whole level of the home out of commission. The process requires several days for sanding and multiple coats of stain. This is a great time to be on vacation. And newly finished hardwood floors are a pleasure to come home to.
One advantage of working with a property management company like Greenwich Home Management is that we can not only refinish the floors, but we'll carefully move and stow your furniture and belongings and then return them in perfect condition so that it was as if nothing ever happened.
4) Sealing and Polishing Kitchen and Bathroom Countertops
Marble, granite, soapstone and quartz countertops can get dingy and faded. Without treatment some materials can become susceptible to staining. Of course kitchen work is one of the most disruptive of the home maintenance projects. Although countertop sealing and polishing does not require a lot of time, it's a good one to have done while you're away. Coming home to nicely polished countertops is always a good thing.
5) Bathroom Regrouting
Bathroom tile grout can crack and deteriorate over time. This is unsightly, but can also cause problems. Cracks in the grout can allow water to seep behind the tile. When this happens it can cause mold and rot. It can also compromise the integrity of the tile work, leading to more issues. Regrouting and/or sealing will help avoid serious potential issues and bring the tile back to life, giving it a fresh appearance.
6) Carpet and Rug Cleaning
Rug and carpet cleaning projects are another one of those property maintenance jobs that take over large areas of the home. While you and the family are lounging on the beach our crew will take care of it for you.
Care and attention should be placed on cleaning rug and carpet surfaces. The right chemicals and cleaners need to be used, and attention needs to be placed on the specific material the rug is made from. Certain area rugs require hand washing. Greenwich Home Management handles cleaning of delicate, heirloom, vintage and antique rugs to ensure the proper steps are being taken to clean these cherished items appropriately.
In Conclusion
Vacation is a perfect time to complete home maintenance projects. When you are a Greenwich Home Management property management client we are key holders and a single source of contact for your Greenwich, CT home maintenance needs. This means we can handle all of your interior and exterior projects. Having a trusted partner for maintenance is priceless. Particularly when you're away.