HOW TO PREPARE YOUR HOME FOR THE HARSH FAIRFIELD COUNTY WINTER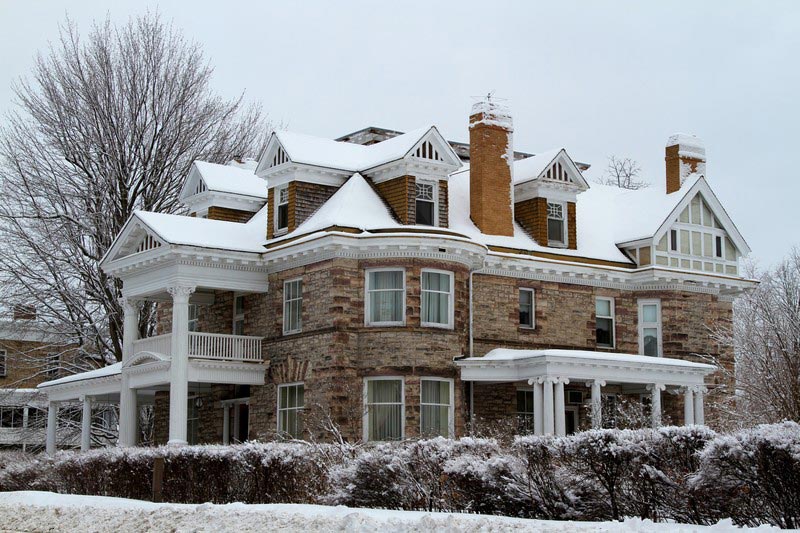 Those of us familiar with Fairfield County, CT winters know that the season can be brutal on our homes, particularly in coastal towns like Greenwich, Westport, and Fairfield. Most of the time damage from the snow, freezing rain, ice, and cold temperatures is caused slowly, out of site. To avoid issues it's important to prepare your house for winter before the harsh weather sets in. Some of these home maintenance tasks can be accomplished by homeowners; others are best handled by a residential property management team that provides handyman services.
Buttoning Up Your Building Envelope
When water ends up in the wrong places it can cause big problems including rot and mold. To avoid water issues from rain, sleet and melting snow and ice, you'll want to make sure water is effectively flowing away from the house. The first line of defense is drainage. Start by cleaning your gutters, or have your handyman service do so. Remove all debris then test each downspout to make sure they are flowing, as they should. If you have basement flooding issues, or basement water problems of any kind, make sure the gutter downspouts extend at least four feet beyond the foundation.
Inspection and Repair of Your Roof
The roof is one of the most critical elements to shore up during residential winter preparation. Prepping the roof starts with a thorough inspection. You'll want to make sure there are no loose or missing shingles, the gutters are secured to the structure and not damaged, and that the flashing is properly fastened and in good condition. If you live on a wooded lot, like many Fairfield County residents do, make sure there are no low hanging tree limbs over the house, as they may break with the weight of heavy snow and ice and cause damage to the roof. Also, check for potential signs of leaks in the roof by inspecting the attic for mold, damaged insulation, and/or water stains.
Roof inspection and repair is one step that is probably best handled by an experienced handyman service or residential property management company. They'll be able to not only identify issues, but also make necessary home repairs. Making sure the proper steps are taken by hiring a home maintenance professional can mean the difference between a small home repair now and a major carpentry project in the future.
Standard Yearly Home Maintenance
The major mechanical systems of your home require yearly maintenance. When it comes to winter prep one of the most important systems to service will be your HVAC. Having your furnace cleaned and inspected each year is critical to keeping it in good working order, and doing so will help you avoid larger issues down the line. A trusted HVAC professional can help you here.
If you have a sump pump make sure the system is fully operational by testing the backflow valves and making sure the discharge pipe is unobstructed. If you have a radon removal system that uses a carbon filter make sure the filter is changed out if it's due. Also, make sure that your chimney has been cleaned before using the fireplace–and carefully inspect the exterior of the chimney to ensure there are no cracks or leaks. Lastly, if you're due for a septic cleaning it's best to get that done before the snow piles up on the yard.
Shore up Your Plumbing
Frozen pipes can be an issue when really low temperatures set in. To help avoid pipes from freezing you'll want to make sure they are properly insulated, and that insulation has not degraded or been removed by animals. Plumbing that runs along outside walls should receive particular attention, as they will be more exposed to the cold.
Have your water heater inspected to make sure it's' working properly to avoid a breakdown when you need it the most. And it's never a bad idea to have your garbage disposal checked to ensure it doesn't break down while your preparing your holiday meals.
Protecting Shoreline Area & Waterfront Homes
For Fairfield County residents in shoreline towns like Fairfield, Greenwich, Stamford, Norwalk, and Westport, certain property maintenance steps will be even more important. Shoreline areas typically see stronger winds and driving rain. As a result these residents should take special care when inspecting shingles, flashing and chimneys. They should also keep a close eye on tree limbs that are near to the house. And proper drainage will be essential for high water table areas that are more prone to basement flooding.
Undertaking thorough winter property maintenance can require a range of experienced professionals. A trusted residential property management company that provides handyman services can take the entire process off your shoulders. At Greenwich Home Management we have a full team of trusted, experienced home maintenance pros at our fingertips to handle the entirety of your winter preparation needs, as well as your year round maintenance needs. Contact us to learn more.